The Mali government has confirmed the first case of Ebola in the country.
It said a two-year-old girl had tested positive for the haemorrhagic virus. She recently returned from neighbouring Guinea. Speaking on state television on Thursday, Malian Health Minister Ousmane Kone said the infected girl was being treated in the western town of Kayes.
She was brought to a local hospital on Wednesday and her blood sample was Ebola-positive, Mr Kone said.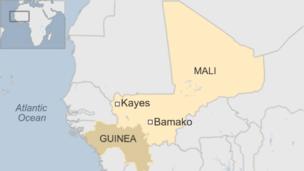 The child and those who have come into contact with her have been put in quarantine.
The girl's mother died in Guinea a few weeks ago and the child was then brought by relatives to Mali, Reuters news agency quoted a health ministry official as saying.
Mali is now the sixth West African country to be affected by the latest Ebola outbreak - however Senegal and Nigeria have since been declared virus-free by the World Health Organization (WHO). Read more:
http://m.bbc.com/news/world-africa-29750723